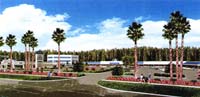 Situated in the heart of Carrollwood's retail major hub, Dibbs Commercial Center, is located in Tampa on North Dale Mabry Hwy. Dibbs Commercial Center depicts an elegant contemporary style with antique brick accents, a Pacific Blue standing seam roof that will match the Artic Blue Glazing of the four-story office building. Surrounding the Center is a brick knee-wall, landscaped with Washingtonian Palms and annuals.
Eckerd and T.G.I.F. are open for business and the sales they are generating is phenomenal! We know this success will continue for the entire Center.
Phase I is now complete in construction. Phase II and the Office building are underway for construction.
Hurry and reserve your space now, while there's availability!
Download Dibbs Commercial Center Marketing Information (PDF File)
Above pdf file requires Adobe Acrobat Reader to view. If you do not have Adobe Acrobat Reader installed on your computer, please download and install the viewer. Click here to download Adobe Acrobat Reader
For more information and to inquire about space availability, e-mail us.